Jeff Chaffin – Owner

It is rare that someone knows exactly what they want to "be" when they grow up but for owner Jeff Chaffin a visit to a boarding kennel at age 10 solidified his career path.  Jeff has been a life long animal lover. The list of  pets is lengthy and includes Dogs, Cats, Birds, Lizards, Turtles and Fish just to name a few.  Jeff knew that he wanted to one day own a business dedicated to the care of pets.
He earned his Associates degree in Applied Science with a specialty in Veterinary Technology in 1985 and worked in the veterinary field as a Licensed Veterinary Technician specializing in Emergency care services for 5 years before opening Calypso Boarding Kennels in 1990.  Jeff has also had an illustrious career showing and breeding Golden Retrievers.  His show career began with his "heart dog" Rogue who's picture still hangs in Calypso Kennels today.
His goal was not to replicate what he had seen in the industry but rather to create a boarding kennel where animal lovers like him could bring their pets and feel confident that they are being cared for as if they are family.  No detail was overlooked in the design and array of services that are offered, from the boarding choices for dogs ranging from the traditional runs to the geriatric runs where special care is given to dogs in their senior years to the luxury suites he strives to meet each individual pet's needs.
His priority is to ensure that each pet entrusted to the staff of Calypso is given the care that he would expect for his own pets.   The commitment to providing the best care for your pet continues today just as it did when Calypso was first opened for business.
Lori Chaffin Hayes – Owner & General Manager
Commitment to excellence and ensuring that your best friends stay at Calypso is safe, healthy and enjoyable. Lori is responsible for overseeing operations and working with the entire team at Calypso to provide unparalleled care for our guests. She is also an animal lover and spends her free time training and trialing her two Australian Shepherds in obedience, rally and herding. Lori invites you to visit Calypso for a tour of our facility, meet our staff and learn more about our accommodations and services.
Marilyn Pearson (Grandma) – Pet Care Specialist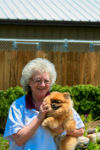 Marilyn has been an integral part of the Calypso family for over 10 years. Her #1 priority in life is to make sure all animals are treated with dignity, love and respect. She has devoted her life to loving and caring for our furry friends and rarely takes a day off. She specializes in the care and comfort of every guest, but especially those wonderful seniors and pets with special needs. If your best friend has specific dietary needs, is on medication or just needs some additional "lap time", Marilyn welcomes the opportunity to exceed your expectations.
Jordanne Gossman – Lead Receptionist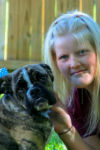 You will most likely be greeted by Jordanne as you enter Calypso. Jordanne has been with Calypso since 2007. She has experience as a groomer as well as a kennel technician and play time technician. Jordanne would love to show you the variety of accommodations and amenities we offer and is available to assist you in customizing your pet's stay at Calypso.